Holy crap. I have a snow leopard wall mural in my dining room. This, of course, means that my life is finally complete. I've been using the super cheap engineer prints you can get at Kinko's or Staples all over our new house, and it occurred to me one day that since you can make those prints as long as you want, it might be possible to make a wallpaper type mural out of the prints.
Once I decided that the possibility of it working was too cool not to give it a try, all I had to do was decide what the subject of the mural should be. It didn't take long before the obvious answer of a giant snow leopard came to me. I mean, I shouldn't even have to explain that one. Whenever people ask those "if you were an animal, what would you be and why" questions, I always say snow leopard; they have the prettiest fur coats in all the animal kingdom AND they can stalk you down and eat you for breakfast. I was pretty sure Todd would love the idea, but just in case, I tried to act casual when I mentioned the idea to Todd over a dinner date one night. His eyes got huge and he said he couldn't wait to get home and look through photos of leopards. Do I know my guy, or what?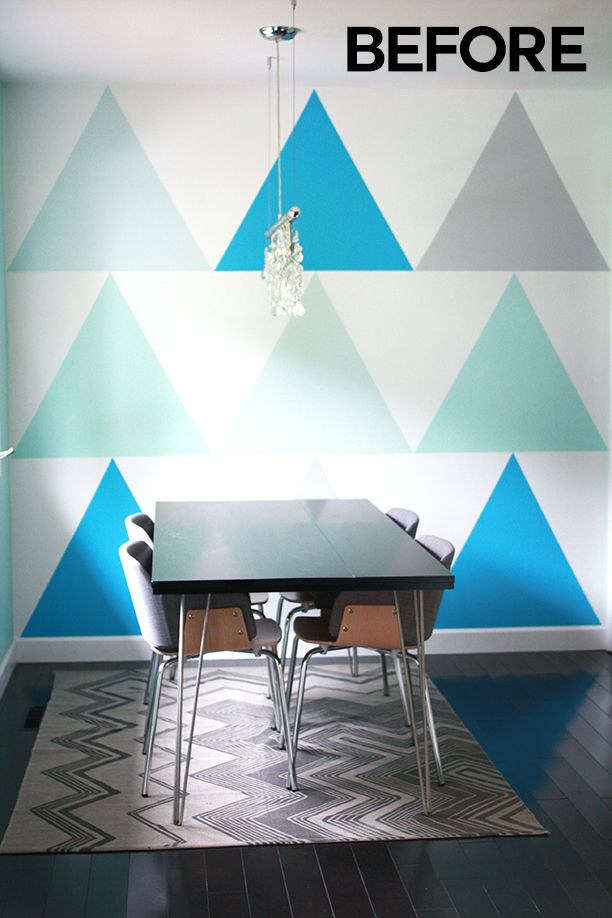 I've had this triangle statement wall up for the past year, and as much as I loved it, something had to give to make way for the leopard. We used some leftover primer from our cabinet restyle and painted the wall white again so that the colors wouldn't bleed through the mural paper.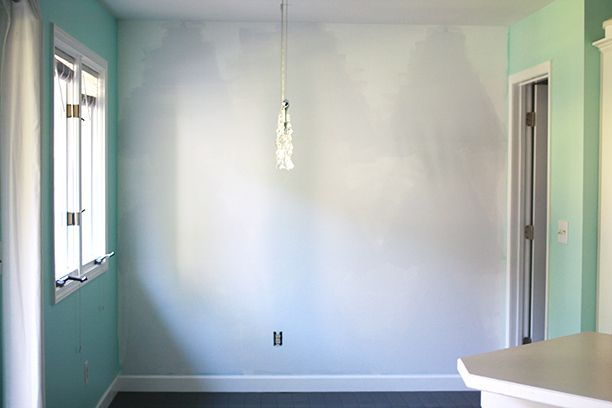 Supplies needed: Photo divided into three sections and printed as engineer prints, wallpaper paste, paint roller, small brush, ladder, straight pins, and an X-Acto knife.
1.) First I measured the wall to determine how big my photo would need to be printed.  At Kinko's, they could only print up to 36 inches wide, so I made sure to keep my strips at around 35 inches wide so I wouldn't lose any printing on the edges. I was able to cover the wall (and a few inches extra just to be safe) in three strips of wallpaper that were each 35 inches wide, so I knew I had to edit my photo into three strips that matched those dimensions. 2.) I edited my snow leopard photo in Photoshop and cropped it into three parts that matched the dimensions of my wallpaper strips. (Note: Since your file will end up pretty big if you make it the exact dimensions of the wall, you can also make your document a third of the scale you need and ask the printer to blow it up to your dimensions when you go to have it printed). Remember, this photo is going to be blown up pretty big, so try and choose the best quality photo you can find for the least amount of pixelation in your final product. 3.) Have your photo strips printed and ask them to trim off the white edges so your photo will meet together like wallpaper does.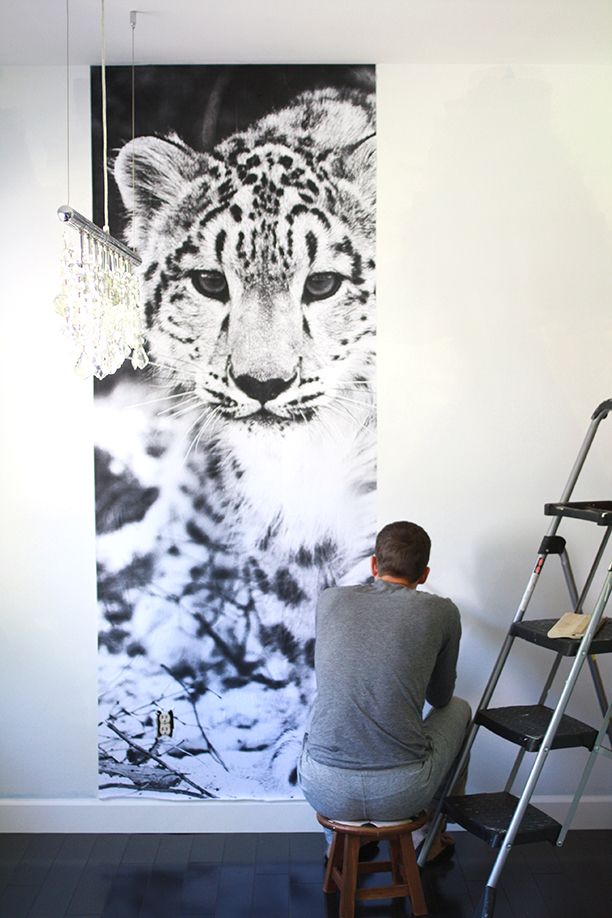 4.)  Pour some wallpaper paste into a paint tray and roll a thin layer of the paste onto the wall where the center panel will be hung. It's very important to put the paste on the wall instead of on the paper as engineer prints are so much thinner than regular wallpaper and start to warp quickly when wet. Using pencil marks on the wall as a hanging guide, hang your center panel (starting at the top) and smooth out the air bubbles. The smallest bubbles can be smoothed by hand, while the bigger one require a little poke with a straight pin to release the air before it will be smoothed flat. We did have a few bigger wrinkles that ended up making a bit of a crease when smoothed, but that's one of the reasons we chose a busier photo; it helps to hide imperfections. You can also use a small brush to add more paste under the side seams so they won't curl up while drying.
I will admit that I totally freaked when I saw the amount of air bubbles that this thin paper produced, but I was able to smooth out a lot of them by hand (or by poking them) and we noticed that the bubbles also started to disappear as the wall dried.
5.) Repeat the process with your two side panels. If you want to make sure that your photo panels will meet in the perfect spot, you can tape the top of your panel in place with painter's tape to get the placing just right. Paste and smooth the bottom portion on the wall first, and once the bottom is pasted, carefully remove the tape, and finish the top half. Also, while your side panel is taped and before you paste it to the wall, make a crease where the mural is hitting the wall and use an X-Acto knife to trim the extra paper. 6.) Trim any extra paper from the top or bottom of your mural (don't forget to cut holes for outlets if you have any) and you're finished!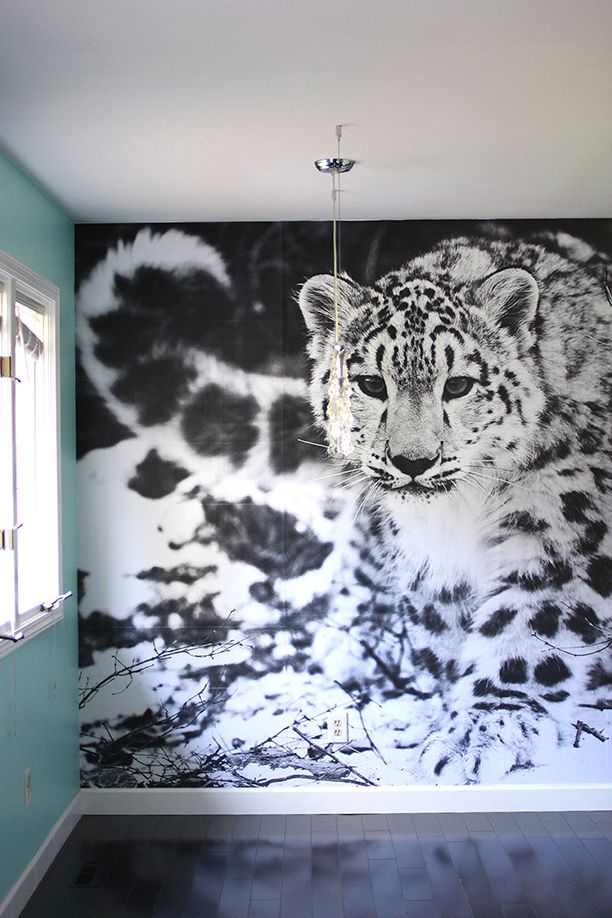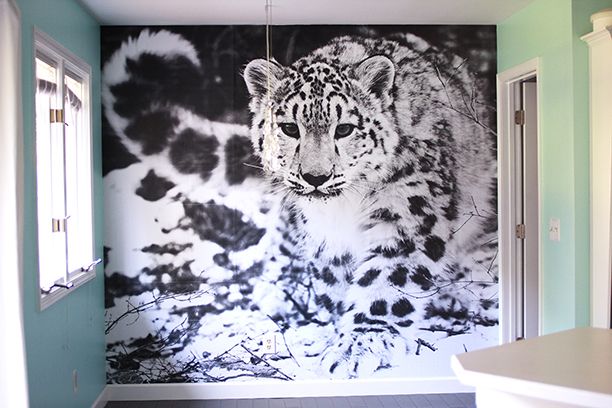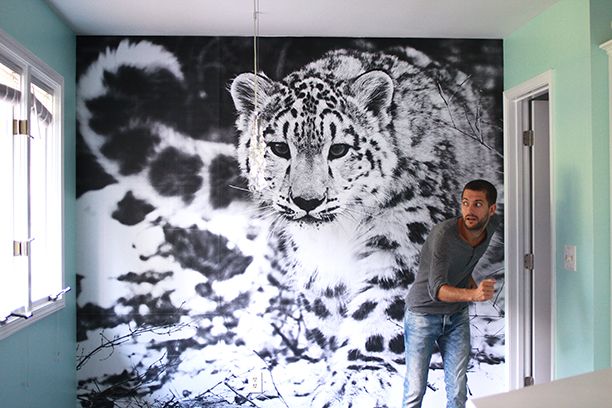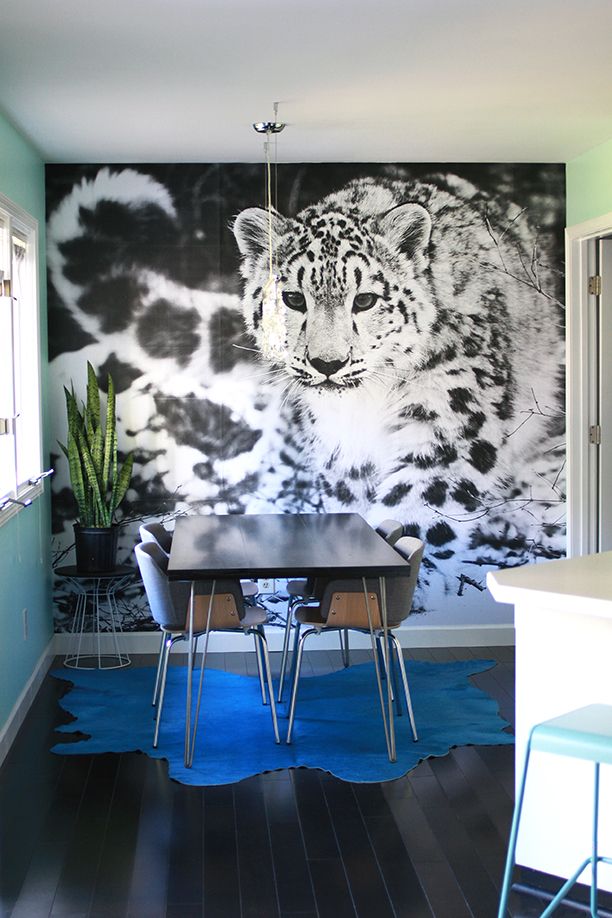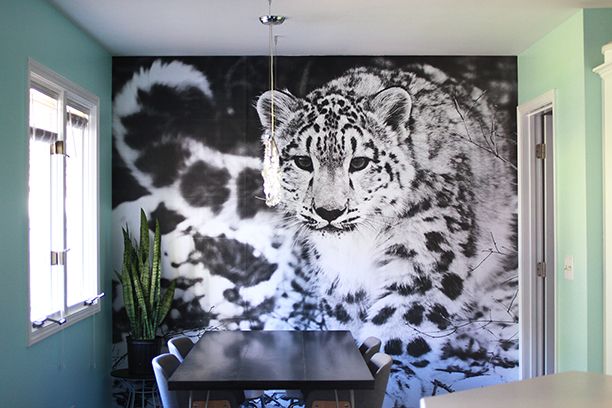 Having this leopard mural is kind of a dream project for us cat lovers, so we were thrilled that it actually worked- and the whole thing only cost about $60 for the size of our wall! You can't beat that!
If you're craving a big change for a small price, this leopard wall will definitely hit the spot! Me-OW!